Oooh, I was SOOO excited to see one of my favorite weddings from 2008 published in the latest issue of Utah Bride and Groom Magazine. The feature is lovely!! Thank you so much to the editor and the publishers for choosing to feature BJ and Ellery's gorgeous wedding!
I adore
Utah Bride and Groom magazine
. It is such a classy publication. The photography throughout the magazine is such eye candy (go Adam Finkle!). The real wedding features are awesome. I especially love this current issues "In The Details" article which features wedding cakes, mind blowing florals, and fabulous wedding invitations. And I adore the feature of the "Season's Best Wedding Gowns". Ooohh, these dresses will make you drool. You NEED to pick up a copy of this mag if you are getting married. It is so full of delicious inspiration.
Here's a glimpse at my featured wedding: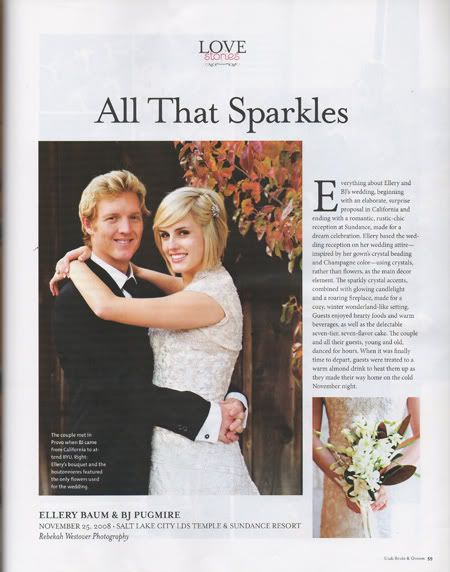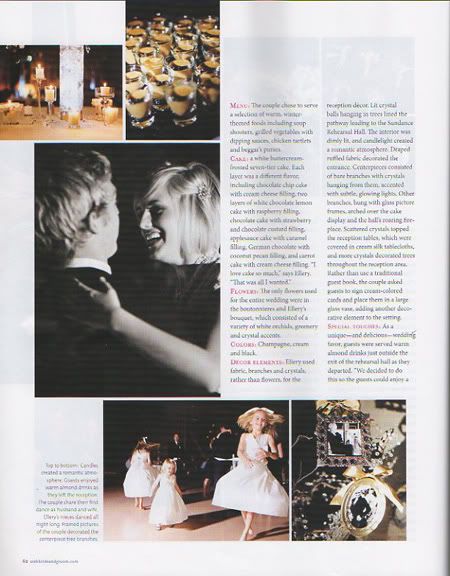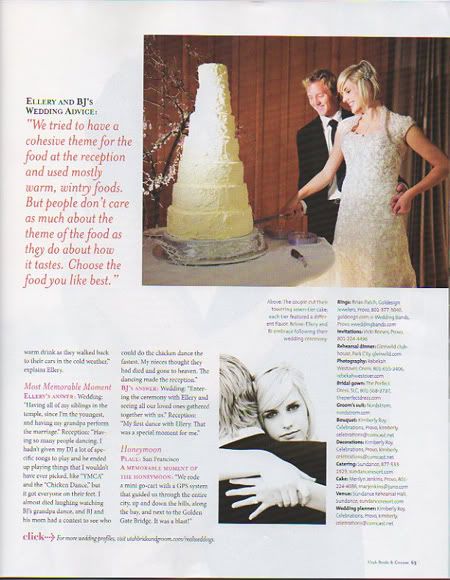 And I just had to add BJ and Ellery's proposal story to this blog post. Oh my goodness, pretty sure no one can top this proposal story!!
As quoted from Utah Bride and Groom Magazine:
BJ flew to California under the guise of visiting his family, then surprised Ellery with a plane ticket to fly out and meet him the next day. "He had arranged for me to miss work for the week, and my mom had secretly packed my suitcase for me," say Ellery. "I was in shock!" Ellery flew to California and the adventure began.
The moment the plane landed, BJ sent her a text message that said "Go to the curb and wait. Hurry!" Ellery went to the curb, and a black limo pulled up. "The interior of the limo was filled with rose petals and roses," say Ellery. "Giddy doesn't begin to express how I was feeling." The limo dropped Ellery off at an enormous outdoor mall, the Irvine Spectrum in Orange County. The driver handed her an envelope, and told her he would take care of her bags. Inside the envelope Ellery found a poem BJ had written that read: "Hey there sweet punkin, glad you could make it, this mystery's about to begin. Your carriage had brought you to the Irvine Spectrum where your adventure lies within. To feel not a mess, go pick out a dress, at your favorite Anthropologie. To help in this spree, don't look to me, but ask for a girl named Brittany. After finding the one, let's continue the fun, at the ferris wheel, my honey bun." At Anthropologie, a gift card had been left for Ellery to find the dress of her choice - the only request was that she had to wear it out of the store. Inside the store dressing room was a pink rose and some clothes for Ellery to try on that BJ had selected. Once Ellery found the dress she wanted, she left to make her way to the ferris wheel.
"The moment I exited the store, I heard BJ's voice yell my name, and there he was with the final rose," says Ellery. "We hugged and walked arm in arm to the ferris wheel. We rode around and around, talking about how surprised I was to be there, until the ferris wheel stopped at its highest point of the rotation. BJ gave me a really mushy talk about all the reasons he love me. He was eloquent and sweet, but I couldn't resist, and right before he popped the question I squealed, 'Are you nervous?!' He finished the proposal and said 'Of course I'm nervous!' We laughed and and quickly heard cheers and clapping from the people around us, including his family, who had been hiding and watching the whole time." Afterwards the couple talked with BJ's family and took pictures, then spent the evening alone in Newport Beach having dinner.
***
Can you even believe what a great proposal story this is?! Ahhh, BJ you are fabulous! You've set the bar for men everywhere REALLY REALLY REALLY high!!!